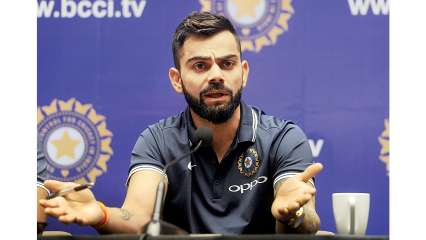 India cricket captain Virat Kohli's "leave India" rebuke to a fan on Wednesday has not gone down well with the Board of Control for Cricket in India (BCCI).
While Kohli is known to be an outspoken cricketer, who doesn't mince words and gives it back to the opposition on the field, his latest comments are being perceived as imposing, and an attack on fans in terms of their right to choose their idols.
Board treasurer Anirudh Chaudhary told DNA, "BCCI values its cricket fans and respect them and their choices. I loved to watch Sunil Gavaskar bat, but also loved watching Gordon Greenidge, Desmond Haynes and Vivian Richards.
"I loved watching Sachin Tendulkar, Virender Sehwag, Sourav Ganguly, VVS Laxman, Rahul Dravid bat but also loved Mark Waugh, Brian Lara and so many others. Shane Warne for me has been the most exciting spinner to watch, but one felt the most thrill when Anil Kumble was bowling. Kapil Dev on song was a delight to watch as were Richard Hadlee, Ian Botham and Imran Khan," Chaudhary said. "I think this has to do with respecting cricketing excellence without any thoughts about geographical or political boundaries," added Chaudhary.
Another BCCI official, on condition of anonymity, said: "Our captain needs to understand that it is only because of fans that cricket has thrived in India. If they stop watching cricket, no company will sign him for Rs 100 crore or even give a single penny to BCCI. The board's revenues are only increasing because of these fans," said the official, adding: "Virat is a great player, but the time has come for him to try and be a great human being too."
On Wednesday, while launching his app on the occasion of his 30th birthday, Kohli was responding to a series of hostile tweets in which one user commented that he loves to watch Australian and English batsmen more than the Indian batsmen.
Kohli replied: "I don't think you should live in India. Go and live somewhere else. Why are you living in our country and loving other countries? I don't mind you not liking me. I don't think you should live in our country and like other things. Get your priorities right."